At Columbia Valley Community Health, we are devoted to providing comprehensive health care to all people of all ages. Our certified internists are family practitioners, or Primary Care Providers (PCP's), who offer medical care for your whole family.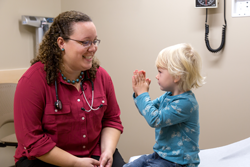 All of our primary care medical providers are board certified and are here to provide quality care to children and adults. Some of the primary care services our PCP's offer include:
     • Well-child exams, immunizations and vaccinations
     • Sports physicals, occupational exams and annual check-ups
     • Family planning, prenatal and midwifery services
     • Women's health services
     • Preventative, acute and chronic-illness care
Click here to learn more about our Primary Care Providers.
What is team-based care?
It means that you have an entire team assigned to you - a team that knows you, so you aren't just a patient number.  In the morning before your appointment, your team "huddles" together to review your chart and talk about your plan. We know your history and are ready for you – this saves you time and gives you a personal relationship that not many health clinics can offer.
Why do I need a Medical Home?
Health isn't just about treating you when you're sick, it's about prevention and wellness.  From Pediatrics to Geriatrics, OB services including prenatal, labor and delivery to chronic disease management, your Primary Care Medical Home knows you.  Your medical home is supported by our Diabetes Management Program, on-site Radiology, Labs and Pharmacy, Patient and Member Services and more. That's what makes us integrated – we are your seamless connection to comprehensive health. 
"I have never gone anywhere where everything was so integrated, including the dentist and hygienist. It's been a very helpful experience to me, having everything so handy. I have found the integrated services close knit and it's given me a sense of belonging and in turn a sense of security."   
Beverly, Wenatchee, CVCH Patient