Vaccinating for COVID-19 is a rapidly moving situation, here is what we know as of right now:
Updated 3/2/21
Breaking News: Phase 1B has now been expanded for all educators and childcare providers. 
We have no further vaccine availability this week. Please check this website this Thursday for an announcement on upcoming clinics next week. 
To find your phase, please click here.
Please call us at 509-662-6000 before 2 PM to schedule your appointment if you are in Phases A1, A2 or B1 Tier 1. 
We are currently serving community members in Phase A1, A2 and B1-tier 1. 
Great news, vaccine appointments will soon be available on our portal!
For directions to our Ballard building vaccination site click here.

This page will be updated every Tuesday and Thursday, so please check back for the latest information.
Important Notice
Once you have received your first vaccine, please work with the same organization to receive your second vaccine. Your second dose will be sent to the same organization. There may be some exceptions, if this is the case, you will be contacted by the organization who provided you with your first vaccine. 
The Moderna, Pfizer and Johnson and Johnson vaccine are equally safe and we encourage you to receive the vaccine offered to you.

Community Partners:
CAFÉ Click here for information from CAFÉ on how they help people sign up to receive their vaccine at the Town Toyota Center. 
 
Click here to visit the DOH website for FAQs and more information.
 
Mass Vaccination Site
The Town Toyota Center has a mass vaccination site, residents who qualify will need to register by calling 1-800-525-0127 for an appointment, or clicking here to register online.

Once the appointment time is confirmed, people may come to the Town Toyota Center. Please do not show up at the vaccination site without a scheduled appointment as residents will be asked to leave.

CVCH is continually working with federal and state partners on our vaccination plans, in alignment with parameters outlined by the Department of Health.
Please anticipate large demand and long wait times. We have a limited number of appointments available based on vaccine supply and vaccination site capacity. We appreciate your patience as we navigate the process and as we assess our ability to add more vaccination appointment times and locations. 

Click here to visit the DOH website for FAQs and more information.
 
PhaseFinder: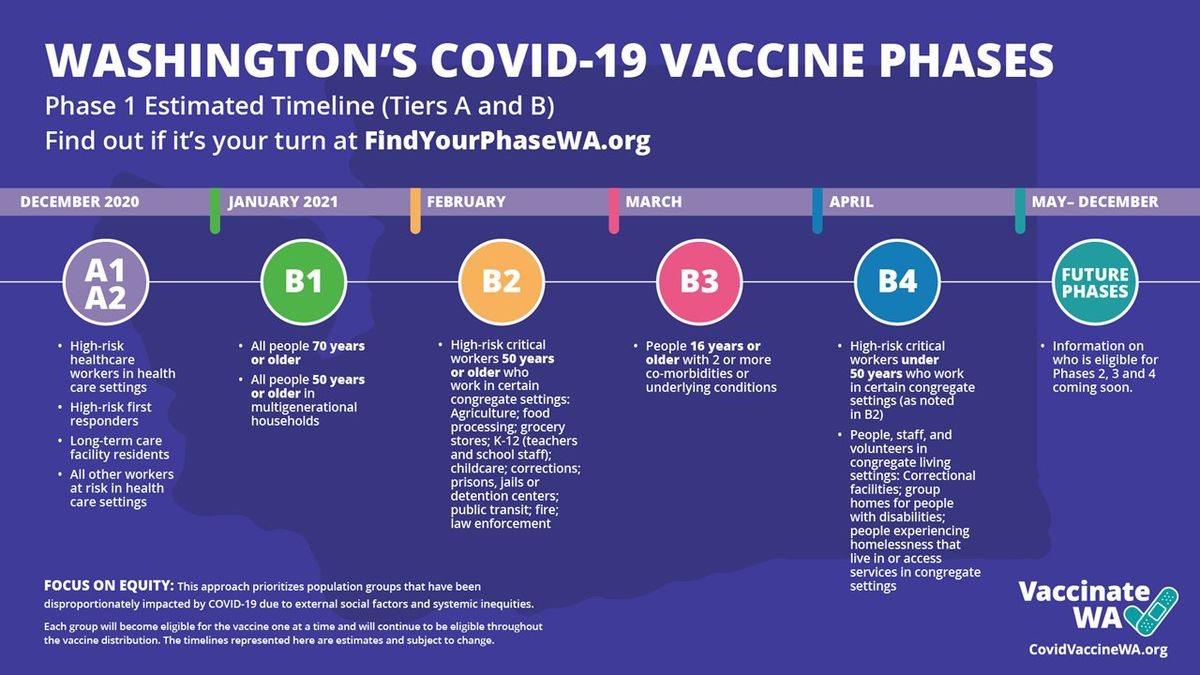 Once you have found your phase, PhaseFinder will send you an email and/or text notifications when you're eligible! 
---
What we know:
Washington State Department of Health recently released a vaccine availability timeline. Click here to review.
We are currently in Phase 1A & B1.
Phase B has four tiers. Tier B1 includes all people 70 years and older and people 50 years and older who live in multigenerational households.
Two COVID-19 vaccines have received FDA Emergency Use Authorization and approval from the Western States Scientific Review Group. One vaccine was developed by Pfizer-BioNTech and the other by Moderna.
The Moderna, Pfizer and Johnson and Johnson vaccine are equally safe and we encourage you to receive the vaccine offered to you.
There are many benefits of getting vaccinated for COVID-19 and doing so will help end the pandemic.
We still need to wear masks, practice physical distancing and wash our hands to prevent the spread of the coronavirus.
---
About the vaccine:
The Moderna COVID-19 vaccine: This vaccine is authorized for emergency use in individuals aged 18 years and older. This is a two-dose vaccine, given 28 days apart. Clinical trial data shows the vaccine is about 94 percent effective after two doses, and no serious safety concerns were found.
The Pfizer-BioNTech COVID-19 vaccine: Is a two-dose vaccine, given 21 days apart. Clinical trial data show the vaccine is 95 percent effective at preventing symptomatic COVID-19 illness. Individuals will not be considered fully protected until one to two weeks after they receive the second dose. The FDA expert panel reviewing the data for this vaccine determined the benefit of the vaccine outweighs the known risk and this has been authorized for use in the United States.

Washington State COVID-19 Vaccination Plan
The Centers for Disease Control and Prevention (CDC) required all states and territories to turn in an interim plan for COVID-19 vaccine distribution on Oct. 16, 2020. These plans are living documents and will change over time as we learn more about the vaccines and figure out the most equitable way to protect people. Washington State's Plan
Read the latest COVID-19 vaccination FAQs from the CDC
Click here to read the latest COVID-19 vaccine information from the DOH
Please read below for more information. If you have questions, please email us at response@CVCH.com. 
---
Understanding the COVID-19 Vaccine
---
COVID-19 Vaccine FAQs
Can a COVID-19 vaccine give you COVID-19?
No. The approved COVID-19 vaccines currently in the U.S. don't use the live virus that causes COVID-19. Keep in mind that it will take a few weeks for your body to build immunity after getting a COVID-19 vaccination. As a result, it's possible that you could become infected with the virus that causes COVID-19 just before or after being vaccinated.
What are the benefits of getting a COVID-19 Vaccine?
COVID-19 can cause severe medical complications and lead to death in some people. There is no way to know how COVID-19 will affect you. If you get COVID-19, you could spread the disease to family, friends and others around you.
Getting a COVID-19 vaccine can help protect you by creating an immune response in your body without your having to become sick with COVID-19.
A COVID-19 vaccine might prevent you from getting COVID-19. Or, if you get COVID-19, the vaccine might keep you from becoming seriously ill or from developing serious complications.
Getting vaccinated also might help protect people around you from COVID-19, particularly people at increased risk of severe illness from COVID-19.
How does the vaccine work?
How do I know which phase I qualify for?
The state Department of Health has launched a new online tool to help determine which phase you might fall under to receive the vaccine. Find which phase you fall under from our main page using PhaseFinder.
What is the cost for the vaccine?
The vaccine is free for you. CVCH charges a $22 fee per person to administer the first dose, and $30 to give the second dose. However, health insurance companies are covering this fee.
If you have insurance, please bring your card with you.
If you do not have insurance, please let us know and our business office can secure coverage for you.
Which vaccine is available at CVCH?
We have received the Moderna vaccine. This is delivered in two doses, spaced 28-42 days apart. We are able to order more each week from the state. However, at this time, the vaccine supply is very limited.
What are the possible side effects of the COVID-19 vaccine?
The most common side effects are a sore arm, tiredness, headache, and muscle pain. These symptoms are a sign that the vaccine is prompting an immune response. Data from clinical trials showed the following:
Ninety percent of people reported pain at the injection site
Seventy percent of people reported tiredness and headache
Sixty percent of people reported muscle pain
For most people, these side effects occurred within two days of getting the vaccine and lasted about a day. Side effects were more common after the second dose than the first dose.
I've had COVID-19. Can I get the vaccine?
Yes, the Advisory Committee on Immunization Practices (ACIP) recommends anyone who previously had COVID-19 to get the vaccine.
People who were recently infected with COVID-19 can choose to wait 90 days after their illness before getting vaccinated. Data suggests that it may be uncommon to get re-infected with COVID-19 in the 90 days after infection.
People who currently have COVID-19 should wait to get vaccinated until they feel better and their isolation period is finished, if possible.
People who were recently exposed to COVID-19 should also wait to get the vaccine until after their quarantine period, if they can safely quarantine away from other people. If there is a high risk they could infect others, they may be vaccinated during their quarantine period to prevent spreading the disease.
Is there anyone who should not get a COVID-19 vaccine?
The Pfizer/BioNTech vaccine is not available to children under age 16 and those who have been confirmed to have COVID-19 in the last 90 days.
There is no research on the safety of COVID-19 vaccines in pregnant or breastfeeding women. However, if you are pregnant or breastfeeding and part of a group recommended to get a COVID-19 vaccine, you may choose to get the vaccine. Talk to your health care provider about the risks and benefits.
COVID-19 vaccination also might not be recommended for people with certain health conditions. While the vaccine is considered safe even in patients with immunocompromise, we don't yet know how effective it will be in this group.
Learn more about the steps that have been taken to ensure the safety of the COVID-19 vaccine by clicking here. 
Can I get the COVID-19 vaccine if I'm pregnant or lactating?
There is limited data on the use of the vaccine for pregnant people. If you are pregnant or lactating and part of a group who is recommended to receive a COVID-19 vaccine (for example, health care personnel), you may choose to be vaccinated. Please click here to learn more from the CDC. 
Can I get the COVID-19 vaccine when I get routine vaccinations?
There is limited data on whether it is safe and effective to get either the Pfizer-BioNTech or Moderna vaccine with other vaccines. At this time, the COVID-19 vaccine should be given alone, at least 14 days (2 weeks) before or after you get any other type of vaccine.
If I get a COVID-19 vaccine, do I still need to take other precautions?
Yes, even if you get vaccinated, we recommend you continue with the other prevention measures you've been doing, such as washing your hands, wearing a mask, staying six feet apart, and limiting gatherings. Many people in our state will need to wait months to get the vaccine, and masks and other prevention measures are still recommended to help prevent the spread of COVID-19 to people who are not yet vaccinated. We also want to remind you that it's not too late to get your flu vaccine.
Can I get the COVID-19 vaccine if I've had an allergic reaction to a vaccine in the past?
The vaccine should not be given to people with a known history of a severe allergic reaction such as anaphylaxis to any component of the Pfizer-BioNTech COVID-19 Vaccine. People who have had a severe allergic reaction to any vaccine or injectable therapy (intramuscular, intravenous, or subcutaneous) may have a higher likelihood of reaction. This is not a contraindication to receiving the vaccine. They may receive the vaccine but should be observed for a minimum of 30 minutes following administration.